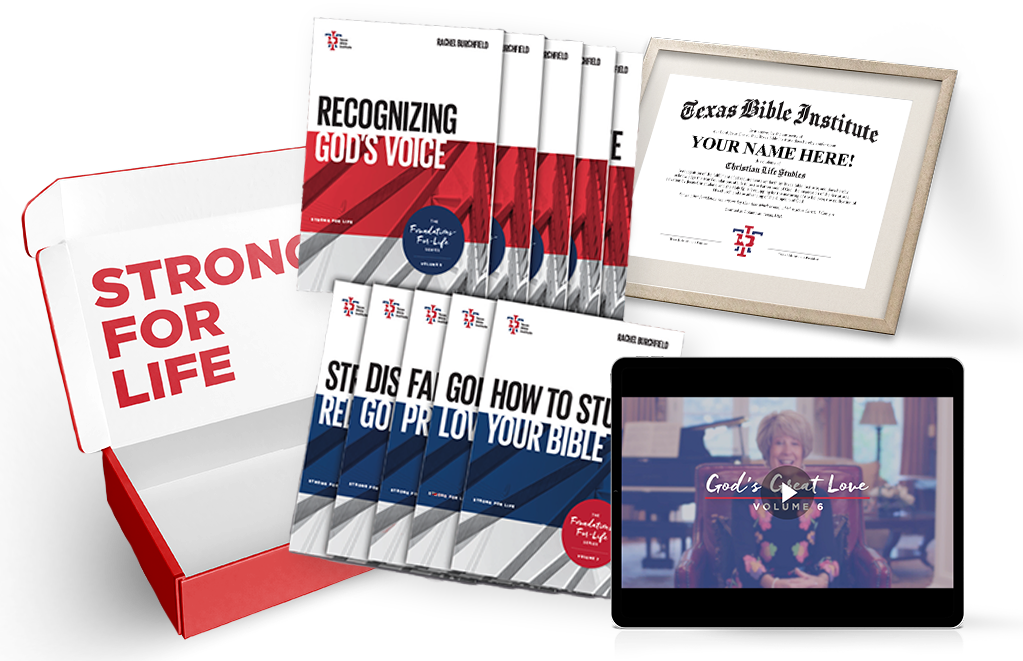 Texas Bible Institute is a self-paced Bible school program that trains all ages to become Strong For Life.  You will discover purpose and gain confidence in Christ as you enjoy ten workbooks and introductory videos of each book. In addition, you will receive a Diploma in Christian Life Studies and an invitation to join the TBI World Alumni Association upon completion.  
Foundations For Life | Part 1
Strong-For-Life Choices
Biblical decision-making begins with a Christian worldview.


Following Jesus
Explore the adventures and characteristics of discipleship.
Bible Basics
Learn the structure and love story of our Father and His family.
Who We Are In Christ
The overcoming lifestyle belongs to those who are In Christ. 
Recognizing God's Voice
Simple ways to increase the volume of God's voice.
Foundations For Life | Part 2
God's Great Love
Receive emotional wholeness through God's rescuing, redeeming love.
How To Study Your Bible
Learn the five types of Bible study and how to apply them to your life.
Strong-For-Life Relationships
Expectations and boundaries for healthy relationships.
Faith Principles
Examine the laws of faith, and how they operate in believers.
Discovering God's Will
Easy truths to discover God's purpose and plan for your life.
Who would benefit from Texas Bible Institute?
Due to a three-level teaching format, all ages and stages of Christian maturity will be challenged,
whether new to the Bible or a rock-solid believer. Many who have benefited include: 
Life is hard work.
Living for Jesus doesn't have to be.
We believe every true believer in Jesus Christ needs a foundation for life. TBI helps you achieve that.
Trusted by Thousands of Pastors, Parents, and Alumni
"I admit it! The TBI workbook addendums are like candy to this Bible teacher. I peek at those Go-To Resources with no apology."
Pastor Michael and Kezia, Texas, Class of 1995
"The Faith Principles course taught me how to demonstrate the miracles of Jesus."
Pastor Israel, India, Class of 2001
"As an educator, I can unequivocally confirm TBI's relevant content contributed to my transformation from a homeless, drug-addicted dancer to an educational leader with my doctorate."
Dr. Tyra, Texas, Class of 1992
"God used TBI to turn this shy guy into an award-winning CBN photojournalist for His glory."
Mario, Jerusalem, Class of 1995
"TBI helped equip me for my future. I host youth camps throughout Latin America along with a longstanding radio ministry."
Israel, Mexico, Class of 1995
"I'm a homeschooling advocate and veteran youth pastor of 30 years. I highly recommend TBI before college!"
Lorena, Texas, Class of 1992
"As a Worship Pastor, TBI taught me how to be led by the Spirit and hear His voice for our church family."
Erika, Texas, TBI Class of 2011
"TBI gave me both practical tips and a vision for my business."
Cody, Texas, TBI Class of 2014
"I hadn't been to school for a long time, but the TBI workbooks were easy to understand."
Alex, Texas, TBI Class of 2020
"As a mom to three girls, learning how to recognize God's voice at TBI was a game-changer."
Kim, Texas, TBI Class of 1992
"TBI is a great gift for your grandkids. Another suggestion is to turn off the tv and enroll yourself."
"TBI taught me how to turn my job into a ministry."
Tracy, Texas, TBI Class of 2020
"TBI prepared our children to become strong Christian professionals."
Medical doctors/Entrepreneurs in Lagos, Nigeria
"TBI changed my life, and it will change yours, too."
"The supernatural lifestyle that I learned at TBI launched me into leading worship teams throughout the West Indies."
Kimrol, Trinadad, TBI Class of 1994
"TBI sponsored many of our students who are impacting Botswana for Christ today.  We've admired the Burchfields for 45 years."
Jerry and Jana, Missionaries, BOTSWANA, Africa